From automobile components to electronic equipment to printed material, we handle all airfreight shipments and international air freight services in the most professional, reliable and expeditious means possible.
The Shine Cargo with network of offices and agents throughout the world allow you the opportunity, with one phone call, to coordinate airfreight shipments worldwide for the most safe, timely, seamless and cost effective manner possible. At Shine Cargo, we have been meeting our customers' international air freight services needs ever since our establishment with fast, efficient service and an on-time performance record that is second to none. Our customer commitment is as strong as ever.
Shine Cargo provides expedited air freight services china and ocean freight services china to destinations around the world. Our airport-to-airport service is ideally suited to customers with a high volume of business requiring time-critical delivery. We provide service based on your needs and your schedule.
We select the most appropriate carrier for your shipment that we gives you a head start over other air freight companies. For example, taking into account the variations in summer and winter timetables and the impact of size and weight restrictions will help you avoid unnecessary costs and delays in shipping your freight around the world.
Although we have a wide variety of services to offer, our most important tool is our personalized service. We take a personal interest in every shipment we handle. We will take great care in the proper transport of your product, whatever it may be, and give it the attention it deserves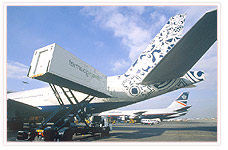 Services for you :
» Air Freight - Direct & Consolidation Services.
» Custom Clearance & Forwarding.
» Automated Shipment Status Tracking.
» Multi-Modal Transport Operators.
» Warehousing & Distribution.
» Pharmaceutical Logistics/ Transportation
» Life Science Logistics
» Clinical Trial Medicine Transportations
» Temperature control transportation
Shine, is one of leading logistic company in handling of temperature control products, providing total logistic solution, for pharmaceuticals products, clinical trail medicine, chemicals, or any such products that need to maintain required temperature during domestic or internatinal transportation.
We also offer packing solution which can maintain temperature from -10degree C to 25 degree C, for 72 hrs with-out any outer support, We can modify our packing as per client requirements
We have expert team to handle small ( hand carry shipments) to bulk shipments around the world with time bonded delivery.To more information contact us,
info@shinexchina.com
We can meet all your global transportation needs around the world. Whether you're flying smallest to largest consignments to any part of the world, just reckon on us, as it reaches your » freights to the designated place at the earliest.